Tesla — Master of Lightning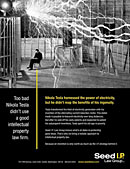 Too bad Nikola Tesla didn't use a good intellectual property law firm, says a US law firm in their advertisement.
Do you know who Tesla is?
Think radio. Think electricity. Think transmitting electricity over long distances. Think - Not on friendly terms with Edison.
Tesla is a Serbian inventor, engineer and scientist.
And do you know why he didn't hire an intellectual property law firm to protect his patents?
Probably because he is from the Balkans and therefore not as inclined as the rest of the world to think about profit making.
You see, the part of brain that stimulates thoughts about actually making profit has not been used for generations in Serbia. We are generations of people who put emphasis on taking life easy. Why? Because our system was set up so that no matter how much you worked, your profit would be the same. So, we were clever and we chose to sip our coffee and read paper until 10:00 and leave work at 15:00.
That behavior stayed for generations and at this point it is safely situated deep in our blood.
Tesla's time (1856-1943), however, wasn't the time of communism but time of Austria-Hungary and Ottoman Empire. Different systems but basics are the same. No profit making because you are the Empire's second class citizen.
So, of course, we took it easy. And our profit making part of the brain started to decay right then and there.
Having said all that, it is likely that if Tesla wasn't from the Balkans he would be more inclined to think about profits, he would probably be paying a hefty attorney fee to a firm like Seed Law while we would be writing our electricity bills to ConTesla, not ConEdison.
Take this post as a lesson that applies worldwide:
For the people in the Balkans — Start exercising the profit making part of your brains.
For the people worldwide — Know who Tesla is. In a world that we live in, bombarded with the sea of information every day, this is one of those rare pieces of information that you would actually read and remember.
Because the mark Tesla left behind is that important.